Spotlight on Health and Safety
September 27: Children with Disabilities and Inclusive Environments
---
Wednesday, September 27, 2023
10:00 AM - 12:30 PM (PDT)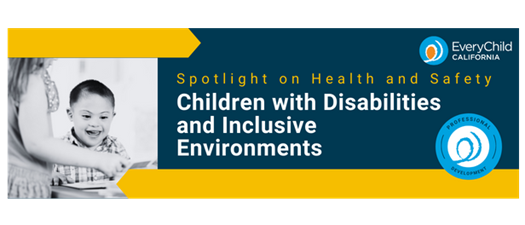 Join EveryChild California and special guest speakers from WestEd for a rich training and discussion on developing diverse learning opportunities for children with identified learning needs.
Together, we will explore:
Best Practices for including children with disabilities or delays

Core elements of an inclusive early learning environment

Strategies for program accommodations and modifications to help a child meet their individualized needs

Tools, templates, and resources from the Supporting Inclusive Early Learning umbrella include Beginning Together: Caring for Children with Disabilities or Delays in Inclusive Settings; California MAP (Making Access Possible) to Inclusion & Belonging; and the CA Teaching Pyramid.
Level Up Your Health and Safety Practice by Attending the Full Quarterly Spotlight Series
Spotlight on Children with Disabilities and Inclusive Environments is the first in our new quarterly webinar series on health and safety.
Recommended for all types of programs, this series is designed to provide research-based information, practical tools and resources that support high quality early care and education programming for children birth through school age.
These trainings are valuable for both administrative and site level staff, including lead teachers and program support staff. Registered attendees will have access to event recordings and resources for 30 days following each webinar.
Wednesday, December 13, 2023
Spotlight on Mental Health and Trauma Informed Care
Wednesday, March 27, 2024
Spotlight on Child Abuse and Neglect
Wednesday, June 12, 2024
Spotlight on Classroom Safety, Injury and Prevention
EveryChild CA Members - $129 (per session)
Non-Members - $199 (per session)
EveryChild California is a 501(c)(3) non-profit organization. Your registrations support our mission to inspire and educate leaders of early learning and care programs.